For Fats-coating, there are four following methods.
1. Fats-coating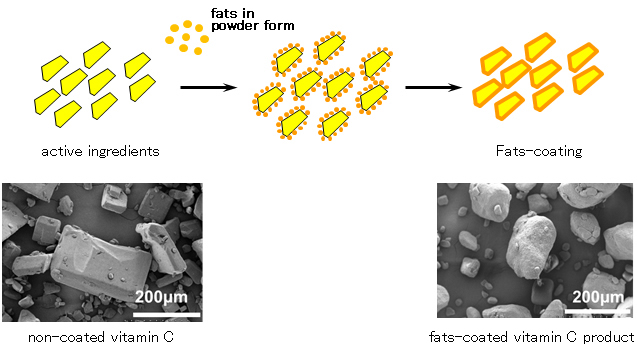 Fats-coating is NOF's unique technology for coating the surface of an active ingredients with fats in powder form.
Fats-coating includes no heating process, nor does it use water or solvents. This features make it possible to improve the physical properties of delicate functional ingredients that are difficult to process.
(Examples: beneficial bacteria such as Lactocbacillus; functional ingredients with low melting points, such as alpha-lipoic acid)
It can coat individual particles with no sticking between them. There is also the option of controlling the amount of powdery fats as the coating agents (coating rate).
2. Multi-coating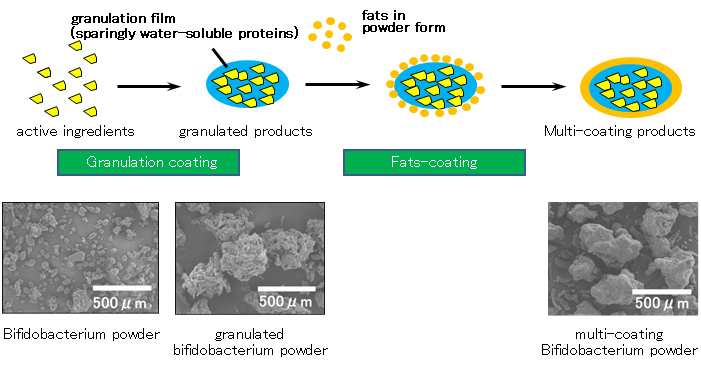 Multi-coating combines a fats-coating technique and a granulation-coating technique. This process involves granulating active ingredients using water-soluble or sparingly water-soluble granulation film. It can improve coating performance greatly compared to using just fats-coating alone.
It can improve fluidity and add the function of being a coating agents to the particle to be coated.
3. Spheroidized Coating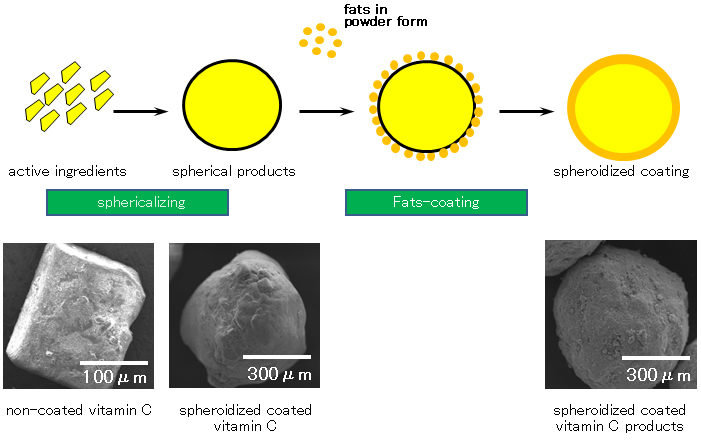 Spheroidized coating is a technique in which the active ingredients is shaped into a sphere before coating it with fats.
By making the active ingredient spherical, the surface area of the powder is minimized and the fats can be coated uniformly. As a result, the coating performance is maximized.
4. TABWEL COAT®

TABWEL COAT® is a technique for processing the active ingredients before coating it with fats.
The term "TABWEL®" is a coined word which means "preparing Tablets Well."
This coating process is specially designed to enhance tableting potential by making it easier to compress ingredients that are difficult to compress.
---