ƒ¿-GPC is a water-soluble compound in which two fatty acids are deacylated from phosphatidylcholine (PC), a type of phospholipid.
It is called "sn-glycero(3)phosphocholine" in the scientific name.
Molecular structure
Feature
Appearance
White Powder
Flavor
Odorless and weak sweetness
Solubility
Freely

dissolved in water

Physical property

Highly deliquescent

, aqueous solution is colorless and transparent


ƒ¿-GPC is a substance that is universally present in the body, such as breast milk, and is a safe ingredient.
It has also been confirmed as safe as food.
Acute toxicity test (LD50)F

| | |
| --- | --- |
| Oral administration | 2,000 mg or more/kg |
| Intravenous administration | 650mg/kg |
ƒ¿-GPC contained in breast milk
| | |
| --- | --- |
| (Am J Clin Nutr 1996;64:572-6) | Choline is an important ingredient for babies. Breast milk contains a lot of choline molecules. ƒ¿-GPC is one of the major molecular species of choline in breast milk. |

Types of choline supplements and their characteristics
Ingredient name
Molecular weight
Features
ƒ¿-GPC
256
Pass the blood-brain barrier (BBB)
Intake 2.5 times
PC
iPhosphatidylcholinej
753
iFatty acids C18j
Pass the BBB
Intake 7.5 times
Choline chloride
140
iCholineF104j
Pass the BBB
Fishy sweat and body odor caused by trimethylamine
Acetylcholine
146
Does not pass the BBB
CDP-Choline
(citicoline)
488
Pass the BBB
Pharmaceuticals (medicine treatment drugs)
Since ƒ¿-GPC pass through the blood-brain barrier (BBB), it acts centrally as a choline supplement.

90% or more of PC (Phosphatidylcholine) is absorbed from lymphatic vessels, but most of ƒ¿-GPC is taken up from the portal vein, so it is absorbed more efficiently.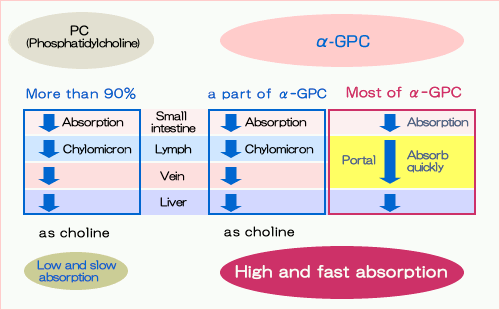 Regarding the effects of ƒ¿-GPC, NOF has been one of the first to work on research and obtain various data.

Healthy adults were ingested 1,000 mg of ƒ¿-GPC, and blood choline concentration, growth hormone concentration and free fatty acid concentration were measured. Significant increases in choline concentration, growth hormone concentration, and free fatty acid concentration were observed in the ƒ¿-GPC intake group compared with the placebo group.
¦Placebo group (n=8), ƒ¿-GPC group (n=6)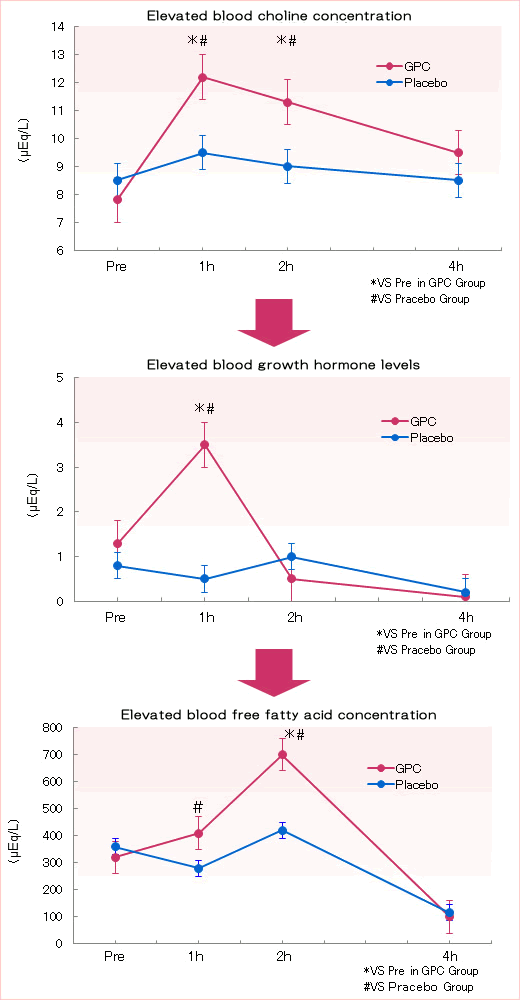 By ingesting ƒ¿-GPC, choline is supplied to the body, promoting the secretion of growth hormone. In addition, due to the action of growth hormone, the concentration of free fatty acids is also rising, and you are ready to burn fat.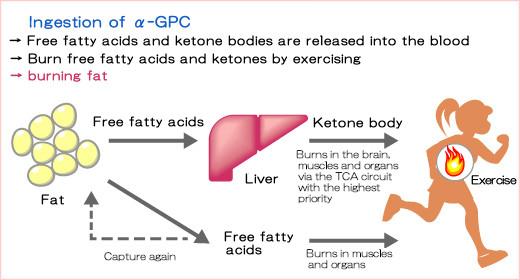 Healthy adults were subjected to aerobic exercise (4METs) for 30 minutes after ingesting 1,000 mg of ƒ¿-GPC, and respiratory quotient was measured. Was recognized.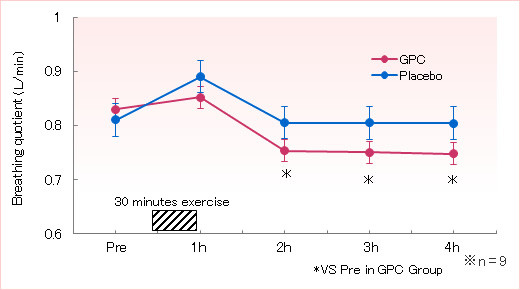 *Respiratory quotient is the volume ratio of carbon dioxide generated by the oxidation of nutrients in the body and oxygen consumed.
The smaller the number, the higher the proportion of fat burning.
*About '4METs'
A unit that indicates the intensity of physical activity (indicates how many times energy consumption is at rest)
The activity of 4METs is such that "Do various household chores at the same time", "Play with children", "Gardening", etc.

Middle-aged women were given 1,000 mg of ƒ¿-GPC per day and aerobic exercise was performed 3 days a week for 4 weeks, and the abdominal subcutaneous fat area was measured. As a result, there was a tendency to decrease compared to before the test.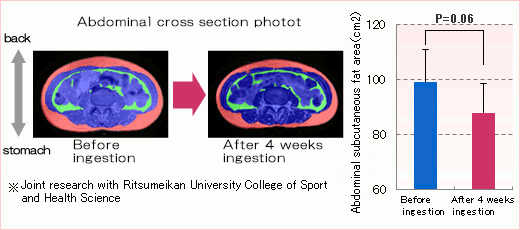 It can be confirmed that fat burning is promoted by "ingestion of ƒ¿-GPC + simple exercise".

ƒ¿-GPC was added to cells derived from human skin and cultured for 24 hours. Comparison with cells without ƒ¿-GPC addition revealed a significant difference in the amount of type I collagen, an index of skin firmness, and the concentration of hyaluronic acid, an index of skin moisturization. Concentrations of 1.0 ƒÊM and 10 ƒÊM correspond to the ƒ¿-GPC concentration in serum during animal experiments, and a physiological effect on blood concentration was confirmed.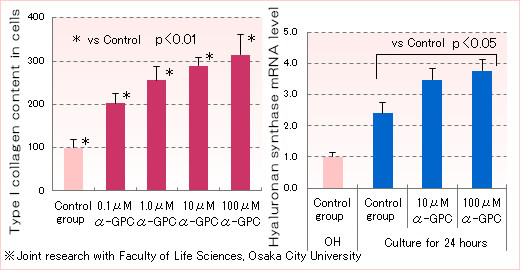 It can be confirmed that ƒ¿-GPC exerts an effect on skin firmness and gloss.