It is a component called "glycerophosphocholine" obtained by hydrolyzing soybean lecithin (phospholipid contained in soybean).The scientific name is "sn-glycero (3) phosphocholine".
Overseas, it has been used for medicines and supplements for the purpose of supplementing "choline".
In Japan, it has been approved as a new food ingredient due to the revision of the law.
In addition, it is a safe ingredient that is universally present in the body, including breast milk.

One of the features of â┐-GPC as a ügcholineüh supplement is that it can efficiently supplement ügcholineüh in a small amount.
Comparing the amount required to ingest "choline", the amount required as â┐-GPC is 1/4 that of soybean lecithin (PC) expected as a "choline" supplement.
As a "choline" supplement, â┐-GPC is the most suitable ingredient.
Comparison of the amount needed to take 1g of choline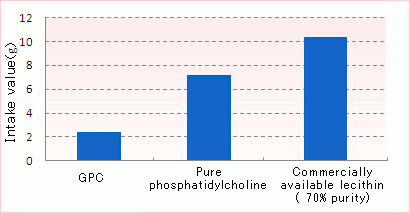 There are various research reports on the physiological function of â┐-GPC.

Improvement of dementia
Improving learning ability
Suppression of stress hormone secretion
Promotion of growth hormone secretion
Improvement of liver dysfunction
Blood pressure lowering effect
Improving competitive performance
Immunity during infection/improvement in injuries

Evaluation of cognitive function in patients with Alzheimer-type dementia
n=261 üiPatients with mild to moderate Alzheimer's dementiaüj Ingest â┐-GPC 400mgü~3 times daily for 180 days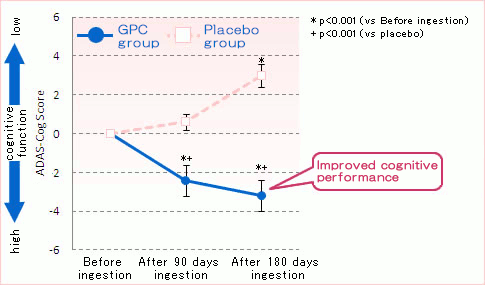 üiClin. Ther., 25(1), 178-93., (2003) Partially modifiedüj
ADAS-CogüFAlzheimer's Disease Assessment Scale-Cognitive Subscale

Improve learning ability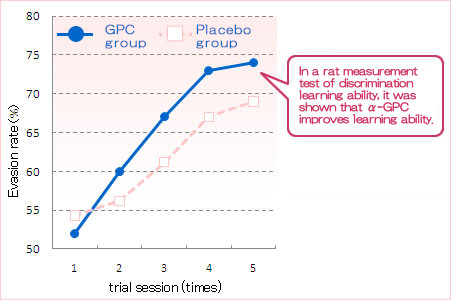 üiNeuro sci Lett., 167(1-2), 171-4., (1994)üj

Suppression of stress hormone secretion
â┐-GPC confirmed a decrease in blood levels of cortisol and adrenocorticotropic hormone, which are typical stress hormone markers.
N=19 ( Men and Women over the age of 60)
Intramuscular injection of â┐-GPC 1,000mg daily for 3 months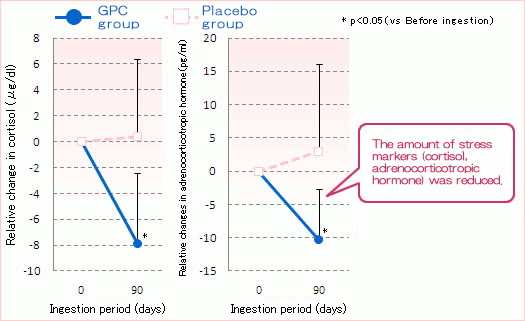 üiLe Basi Razionali della Terapia., 23(Suppp.3)., 108-116., (1993)üj

Growth hormone secretion promotion
N=15 ( 7 young human and 8 elder human)
Intravenous injection of â┐-GPC 1,000mg + Growth hormone-releasing hormone (GHRH) 1â╩g/kg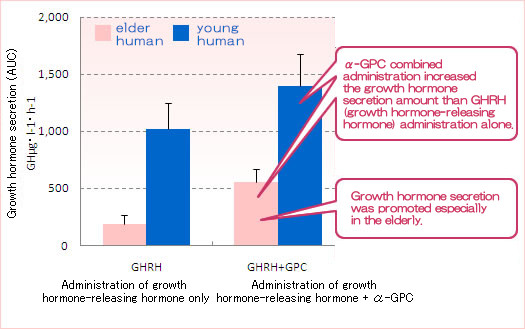 üiHorm.metab.Res., 24, 119-121., (1992) Partially modifiedüj

Improvement of liver dysfunction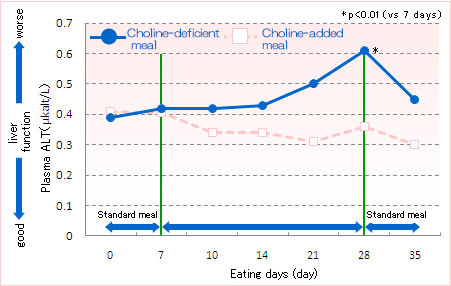 üiFASEB J., 2093-8., (1991)üj
It has been confirmed that choline deficiency raises plasma ALT (GPT) concentration, which is one of the typical markers of liver dysfunction.
Taking â┐-GPC and supplementing with choline may improve liver dysfunction.

Blood pressure lowering effect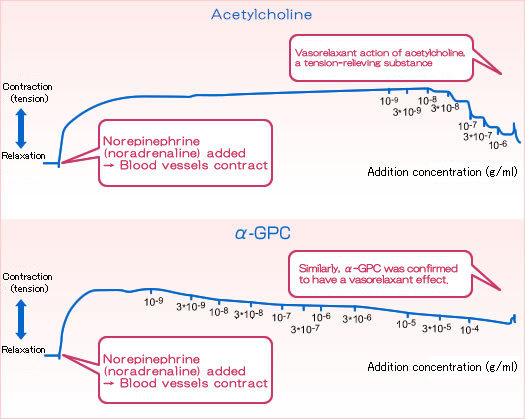 üiJP S62-111926Aüj
Magnus tubectomy artery vasorelaxation test
Norepinephrine is secreted during stress and causes peripheral blood vessels to contract. â┐-GPC relaxes peripheral vasoconstriction induced by norepinephrine, similar to acetylcholine (a tension-relieving substance), and has been confirmed in a test using rat aortic isolated vascular fragments.
Since â┐-GPC exhibits a vasorelaxant action similar to acetylcholine, it may dilate blood vessels and lower blood pressure.

Expectations for improved atheletic performance
A decrease in plasma choline concentration due to intense exercise has been reported.
Ingestion of â┐-GPC supplements choline and may ameliorate athletic performance deterioration due to decreased plasma choline concentration.
Athletes' plasma choline concentration at the Boston Marathon
üiInt.J.Sports Med., 13, S141-S142., (1992)üj

Expectations for improving the ability to repair injuries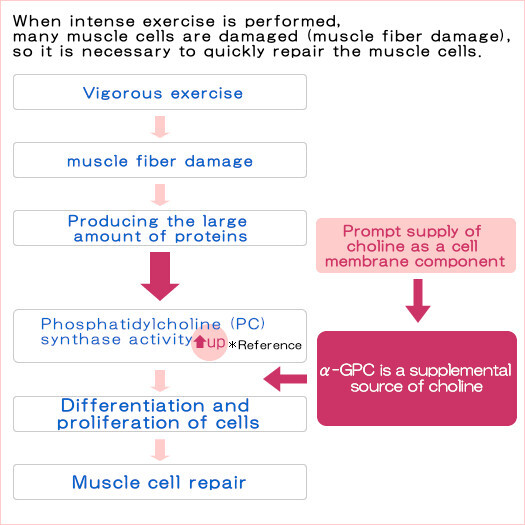 üľReference : J Cell Biol., 167(1), 35-41., (2004)
Ingestion of â┐-GPC may supplement choline, which is one of the constituents of cell membranes, and promote the repair of injured muscle cells.